Athlete Of the Week: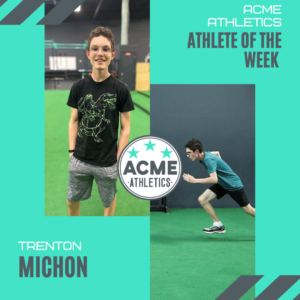 Trenton Michon
Age: 17
School: Sycamore High
Sport(s): Cross Country
Favorite food Food: cereal
How has Acme Athletics Strength and Conditioning helped you? Strength & Conditioning has helped improve my overall body confidence and strength and is always a positive environment despite the current state of the world.
"Trenton is an athlete that always defies expectations. No challenge is ever too great for him to overcome. Trenton always comes in ready to push himself to be stronger than the day before, and his levels of conditioning are unmatched. His constant positive mindset and attitude will take him to incredible places"
-Coach Eyan, Head of Strength & Conditioning
Quote of the week:
Continuous effort, not strength or intelligence, is the key to unlocking our potential."
-Liane Cardes
What other athletes are saying:
Acme Athletics is full of amazing and friendly coaches that push you to your limits and support you every step of the way. The strength & conditioning program is never repetitive and always challenges me in new ways.
-Dalton Ulrich
Coach Tip:
PRACTICE TIME MANAGEMENT
-Treat your life as a full-time job, and honor each commitment. While you may enjoy your athletic life more, be sure to put in time and respect for your classes, too.
-Always be aware that while colleges may be interested in you as an ATHLETE, you must attend the school as a STUDENT in order to be eligible for competition, meaning you must be accepted into the organization in order to participate. If your grades slip, then you won't be able to participate in athletics, it's that simple.
There is a sliding scale used to determine athlete eligibility at the D1 and D2 levels, meaning the higher your core GPA is, the lower your ACT/SAT score needs to be, and vice versa. While this may be the case, do not be complacent. Always strive for a high GPA and ACT/SAT to open doors to different schools and programs. College coaches want athletes they do not have to babysit, they expect MEN/WOMEN, not children. Any scholarships are not set in stone. If you cannot maintain eligibility, any school can pull your scholarship and you will be out of luck.
Coach Eyan Pope, Head of Strength & Conditioning