We pave the road for athletes, young and old, to go the extra mile and achieve their goals! 

541 Adult Fitness
We help busy adults lose weight, look great, and feel great with as little as 3 training sessions per week

Get faster, stronger, and quicker for your sport with our athlete specific strength program.

Sports Training Programs
Sport Specific Training to help you get to the next level!

Adult Sports
Check out all the offerings we have for adult sports at Acme. We offer tournaments, leagues, and open play

Acme Shooting Club
Featuring a Dr. Dish CT Shooting Machine which features a 15.6″ true touchscreen interface, 150+ on-demand workouts from professional trainers, and the ability to build custom shooting drills that track individual and group stats!

Smoothie Bar
80% Nutrition + 20% Excercise = 100% Total Fitness
Over 15 Different smoothies/ shakes to choose from
DOWNLOAD OUR APP – It's Super Easy To Use!
Stay up to date with everything we have going on
Sign-Up for anything you want to on the App
Sign Into Classes
Request Private Lessons + Rentals 
Indoor Training Facility
Wth over 50,000 square feet. Equipped with batting cages, basketball/volleyball/ soccer courts, fitness rooms, etc…
One Rep Closer To Your Goal
Every rep is one rep closer to your goals. From kettlebell swings, to perfecting your jump shot, we are here to help you make sure your reps count!
High Quality Coaching
Our coaches are certified and qualified to ensure you are getting the best service possible at Acme Athletics.
A home for athletes, young and old!
We offer
Camps + Clinics in Various Sports
Youth Classes in Various Sports and Strength and Conditioning
Private Lessons
Adult Fitness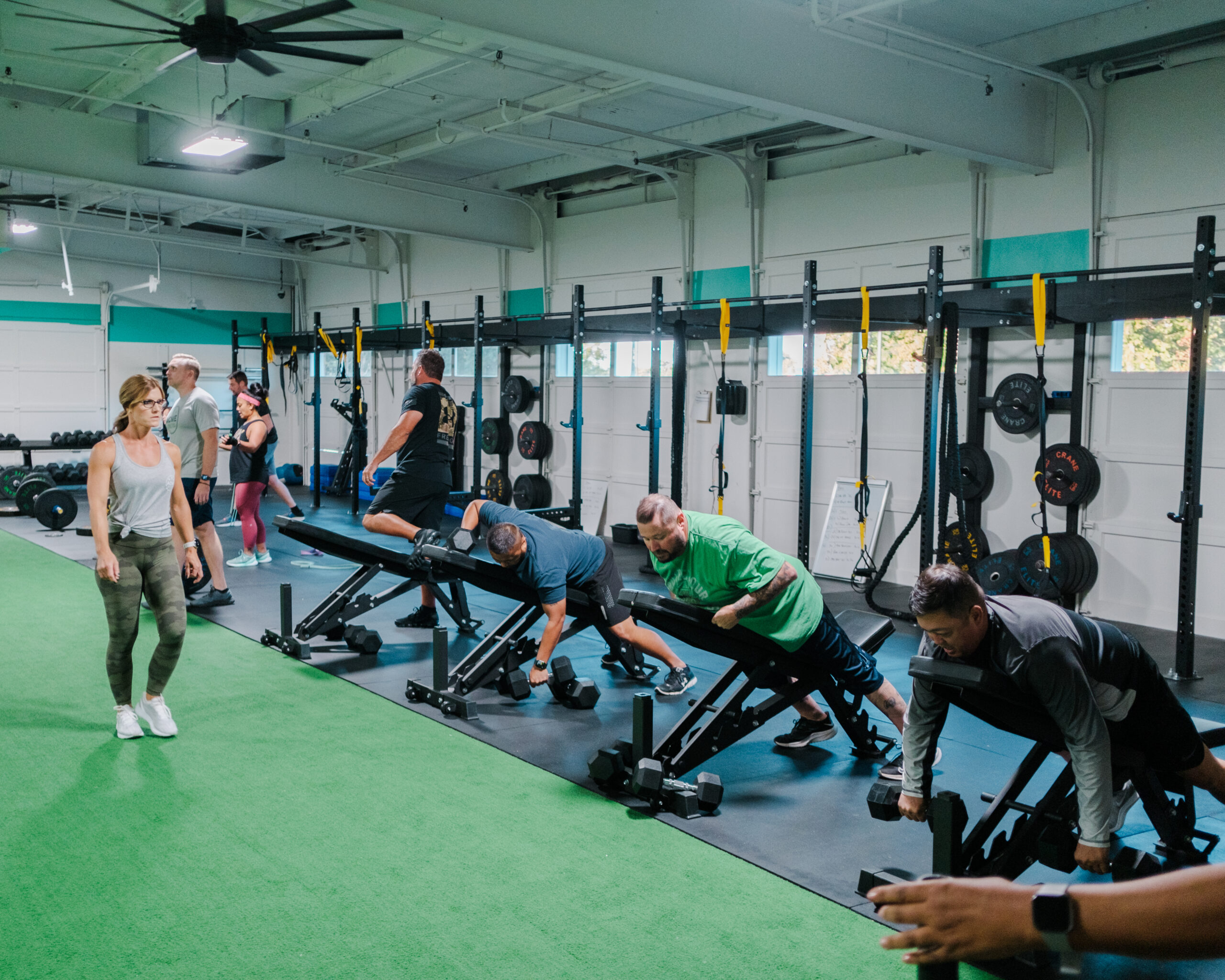 We've Been Going The Extra Mile Since 2016
"I have been a crossfitter for years. I've tried whole paleo, paleo, and keto diet lifestyles. All with little to no results… Three months with Dawson at Acme Athletics and I lost 20 lbs of Body Fat, gained 5 lbs of muscle, and have had sustainable results. (I have even had ice cream!!) 
My weight on the scale only shifted about 5 pounds, but my dress size went down 4 sizes IN THREE MONTHS!!"
"After experiencing rapid weight gain amidst surgery and the covid lockdown, I turned to the adult strength and conditioning program with Coach Dawson at Acme Athletics. I am so happy with the results that I have received so far. I am down 7 pounds in body fat. My clothes are fitting better. I am feeling myself getting stronger every session and I feel much more confident. I am so appreciative of Coach Dawson motivating me and helping me meet my goals and look forward to making even more progress." 
ACME has given me the most results I have ever received from working out. The trainers are super helpful at modifying exercises, showing proper techniques, and giving nutritional advice. If you're looking for a great place that fits your busy schedule, look no further!