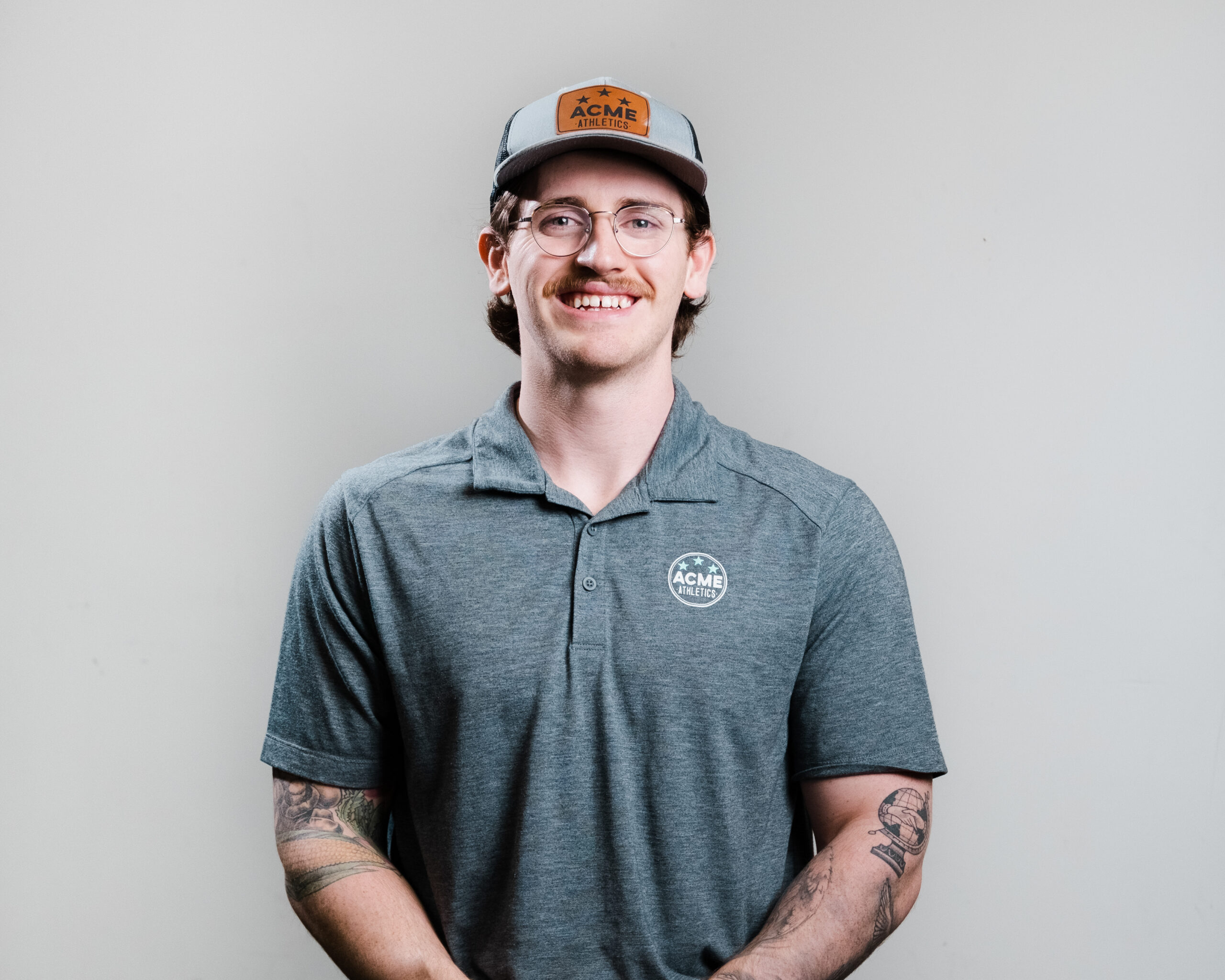 Brandon Anderson
Adult Fitness Coordinator
Coach Brandon has been here since the beginning stages of the Adult Fitness program. He started as an Accountability Coach/Trainer and is now the Coordinator of Adult Fitness. Brandon is from a small town in West Tennessee called Camden. Fun fact, he attended UT Knoxville Culinary School and once owned a food truck! Brandon chose Acme Athletics due to the family oriented environment it has as well as the community atmosphere that it holds! Brandon has a passion for making fitness and nutrition an enjoyable experience and a key point in your life! He is excited to see the program grow in 2023 and can't wait to help you achieve your goals!
Certifications:
Certified Sports Nutritionist through AFPA

USA Weightlifting (USAW) Level 1 Sports Performance Coach

NASM-Performance Enhancement Specialist
Dawson Darnell
Adult Fitness Trainer

"My name is Dawson Darnell, my love for sports and wellness began when I went into highschool, at the time I weighed 250 pounds and I decided it was time to do something about it, so I began doing light cardio and focused on nutrition and ended up losing 100 pounds. Later, I got a job at the YMCA as a lifeguard where I was introduced to weight training by the fitness director of the facility, the hobby eventually turned into a passion and I wanted to be able to help people who are in the same situation I was when I was going into highschool, my family wasn't exactly the most fitness-oriented and I wanted to end that cycle, I began to research careers in the fitness field, then when COVID began I decided to devote my free time to studying for the Personal Training exam along with my certification in exercise and behavior change I then obtained those certifications through the National Academy of Sports and Medicine in the Summer of 2021. I Personal Trained through the YMCA and Austin Peay State University for about a year and a half, through Benton Lewis I discovered ACME Athletics and I immediately fell for the environment and how community driven the facility was along with how everyone worked together in order to meet goals."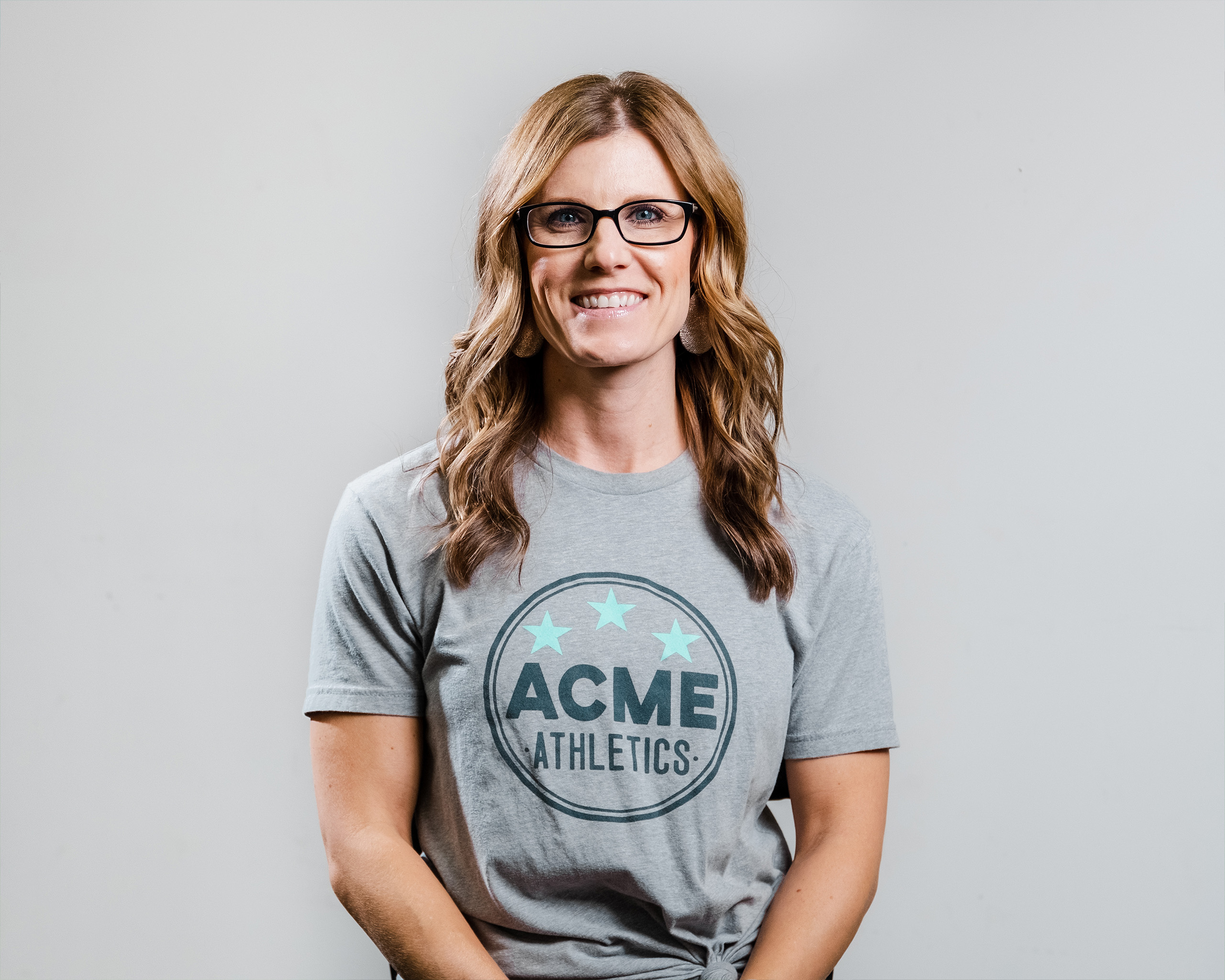 Amber Youngs
Adult Fitness Trainer
Amber has been with Acme Athletics since July 2022. She has been married to her husband for 18 years and they have two teenage boys. Her family is very sports oriented. You can find them in a gym or on a field most days of the week. Amber has been a hairstylist for 22 years but has always had a love for fitness, nutrition and weight lifting. She loves helping people reach their goals. She will be your biggest fan and help you anyway she can! Come check out the Acme Athletics Adult Fitness program, we are more than "Just a gym!"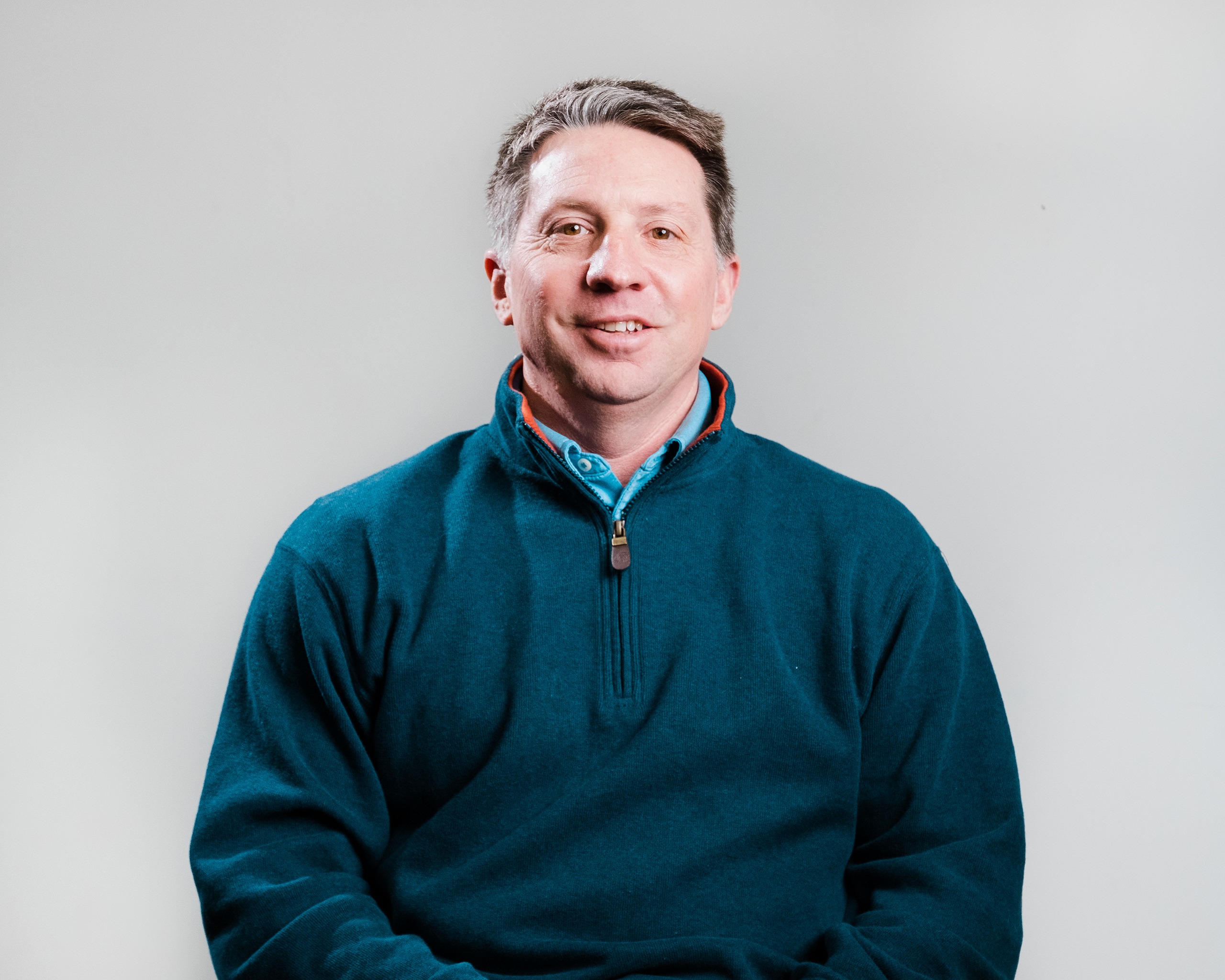 Travis Janssen
Baseball Coach
Travis Janssen comes to ACME with 26 years of NCAA college coaching experience. Most recently Travis served as the Head Coach at Austin Peay State University. In six full seasons he accumulated 169 wins, along with 2 OVC runner-up finishes.
His teams defeated Power 5 schools nine different times in six years, including three victories over Top 10 ranked opponents (Vanderbilt 2019, Clemson 2018, North Carolina State 2017), which were the school's first ever top 10 wins. During his time at Austin Peay, Janssen's OVC conference winning percentage was the highest of all active OVC coaches.
Travis has worked on coaching staffs that have produced close to 100 professional players, including 11 that have reached the Major Leagues. Most recently, former player and current St Louis Cardinal, Ryan Helsley was named a 2022 MLB All Star.  In addition to Austin Peay, Travis has had coaching stops at six other NCAA Division 1 or Division II schools, where he has been a part of five championships. He has made stops in his coaching career in both the SEC and the Big XII conferences.
As a player, Janssen played professionally for the Adirondack Lumberjacks briefly in 1996.  He was an All-American at New Mexico State University in 1995, as he posted a batting average over .400 for his two-year career.  Before his time at New Mexico State he helped lead Butler County Community College (KS) to a 3rd place finish in the NJCAA World Series.  Janssen prepped at Manhattan High School in Manhattan, KS. During his senior year he led the Indians to their first state championship in program history.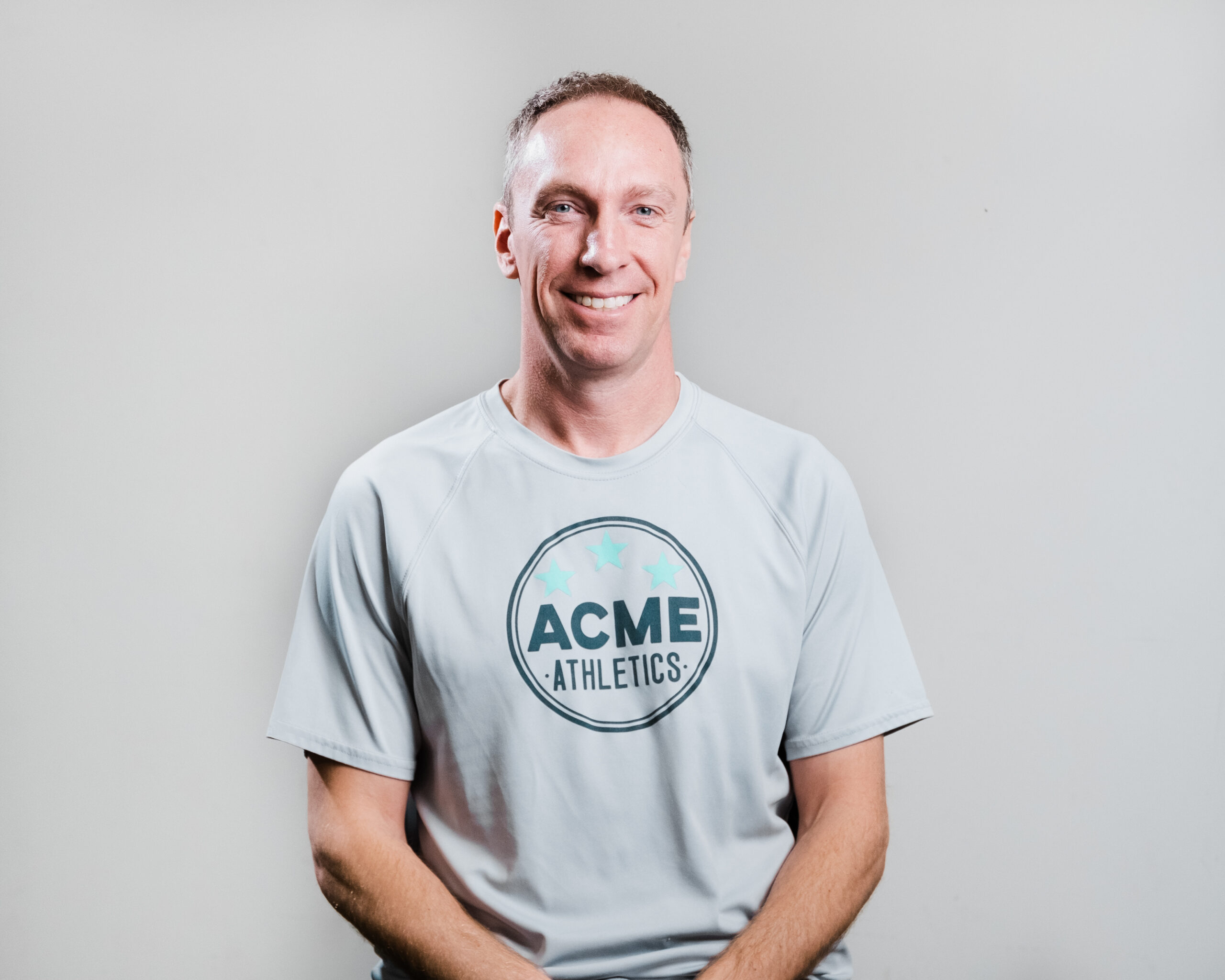 Mark Youngs
Basketball Director
With over 20 years of experience coaching college basketball, Coach Youngs brings a wealth of knowledge to the basketball program at ACME Athletics. Coach Youngs amassed a record of 232-68 as the head coach at Davenport University and has helped turn around 3 different Division 1 programs (Monmouth University, Austin Peay State University and most recently,
Morehead State University).
Coach Youngs has won several conference Coach of the Year awards, Michigan's College Coach of the Year and has a gold medal after coaching USA to the United World Games Championship in 2009. He has also worked at the Olympic Training Center in Colorado Springs, CO preparing the USA National Team for the World Championships.
Coach has a passion for individual player development. He has travelled to 25 different countries coaching basketball and has worked with 9 NBA Players and 22 WNBA Players. Coach is known for utilizing cutting edge and creative training techniques that are both fun and challenging and focuses on how to transfer what he is teaching to game play.
A former kindergarten and 2nd grade teacher, Coach Youngs really enjoys working with all ages of emerging basketball talent. He is a proud parent of two boys, Trey and Eli and has been married to his wife Amber for 19 years.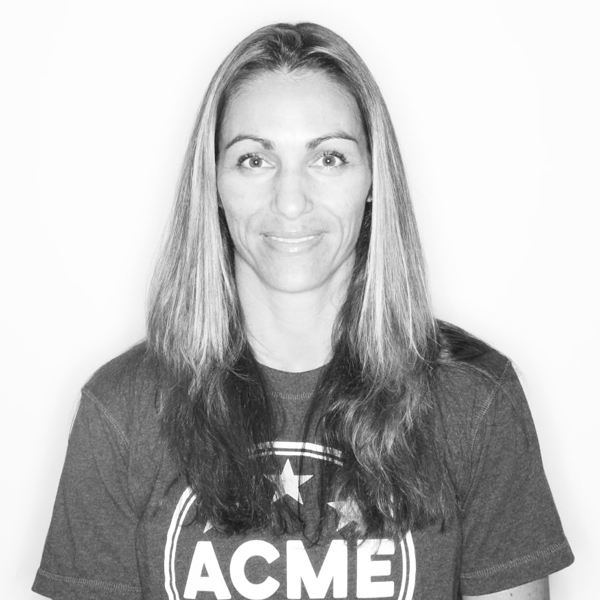 Jen Garinger
Volleyball Director
Originally from Phoenix, Arizona, Jen Garinger has exhaustive experience in volleyball. She first came to Clarksville with her family in 2006, by way of Ft. Campbell. Since then, she has spent much of her time coaching high school and club volleyball in the Clarksville area, where her teams competed in district and regional championships. Jen was twice named District 10AAA Coach of the Year, in 2012 & 2013. Coach Garinger hopes to continually grow Clarksville's commitment to excellent volleyball through her expert guidance at Acme Athletics.
ATHLETIC EXPERIENCE
Various Adult indoor and sand tournaments (2000-present)

USAV, Adult Nationals (Minneapolis, Atlanta, New Orleans, & Phoenix)

University of Louisiana Lafayette (1996-97)

Scottsdale Community College (1994-95)

Arizona Juniors Volleyball Club (1990-94)


Central High School (1990-93)
PROFESSIONAL EXPERIENCE
Art of Coaching Volleyball Member  (December 2015 – Present)

CrossFit Trainer – Level 2 (Certified February 2015)

CF Kids (Certified 2012)

Clarksville Volleyball Club (2015 – Present)

Clarksville Volleyball Youth League, Clinics & Camps (2012 – Present)

Davidson Academy, Lady Pumas (2014-15)

Pat Powers Camp, Assistant Coach (2014)

Club West VBC, Clarksville Club Director (2012-14)

Kerri Walsh-Jennings Camp, Volunteer Coach (2013)

Alliance VBC, Clarksville Club Director (2009-12)

Rossview High School, Head Volleyball Coach (2006-07 & 2011-13)

Club Red 15U (AZ), Assistant Coach (2007-08)

AZ Sky 15U, Assistant Coach (2009-10)

AZ Sky VBC, Club Director (2005-06)

Mid South Volleyball Academy 18U, Head Coach (2006)

NJCAA DII Championship, Site Director (2005)

FAVA VBC (NC), Volunteer Coach (2005)

Scottsdale Community College, Assistant Coach (2003-05)

Arizona Juniors VBC 12U, Head Coach & Tournament Director (2002-04)


Rocky Mountain VBC, Director & Head Coach (1999-02)
KJ Storz
Softball Coach
Originally from Salem, WI, Coach KJ Storz comes to Acme Athletics with several years of both playing and coaching experience. She played college softball for the University of West Alabama (UWA) from 1997-2001. Then while completing her Masters Degree in Physical Education she was the pitching and outfield coach for UWA. She then moved to Elon, NC where she was the Assistant Coach for Division 1 Elon University. There she worked with pitchers, catchers, slappers and outfield. After spending 10 year coaching college softball she moved to Clarksville in 2009 and became the head coach of the West Creek High School softball team. Coach Kj is currently a PE teacher at Carmel Elementary and continues her passion and love for the game and teaching young athletes by coaching at Clarksville National Softball League. She is excited to work with Acme Athletics to continue to grow softball athletes.
PLAYING EXPERIENCE 
Westosha Central High School (CHS) – 1993-1997
University of West Alabama – 1997-2001
4 Year letter winner at UWA
Inducted into CHS Athletic Hall of Fame – 2017
PROFESSIONAL EXPERIENCE
Assistant Softball Coach/Pitching Coach at the University of West Alabama – 2001-2004
Assistant Softball Coach Pitching, Slapping, Outfield Elon University 2004-2009
Head Softball Coach West Creek High School 2009-2011
Clarksville Nationals Coach 2016-2019